Welcome to Camp Heart On!
During the spring and summer months The Collective Tribe travels to transformative music and art festivals in Western North America under the camp name "Camp Heart On". CHO is a gift-based, community camp space that focuses on creating a safe container for the free expression of individuals' gifts, within the context of the festival experience. All those who wish to co-create through their individual talents are welcome.
 Setting the Stage
For many festival-goers, the novelty of participating in a heart-based, timeless weekend of music,  art, movement, and community can be a disruptive and contrasting experience to our daily lives. Western culture has mostly forgotten what constitutes community through our  self-imposed isolation and underlying story of a separate self. This often means that the connections and freedom experienced by many people at festivals  can be challenging to understand and re-create once we are back home.
Within the festival container, co-created as a collective dream – a shared reality, freed from the constraints of the default world – we are gifted an opportunity to explore the wonder and magic of the transformative. What is it that gives rise to powerful shifts within an individual at a festival? How can we deeper embody our experience so as to carry their lessons beyond the temporary gathering?

---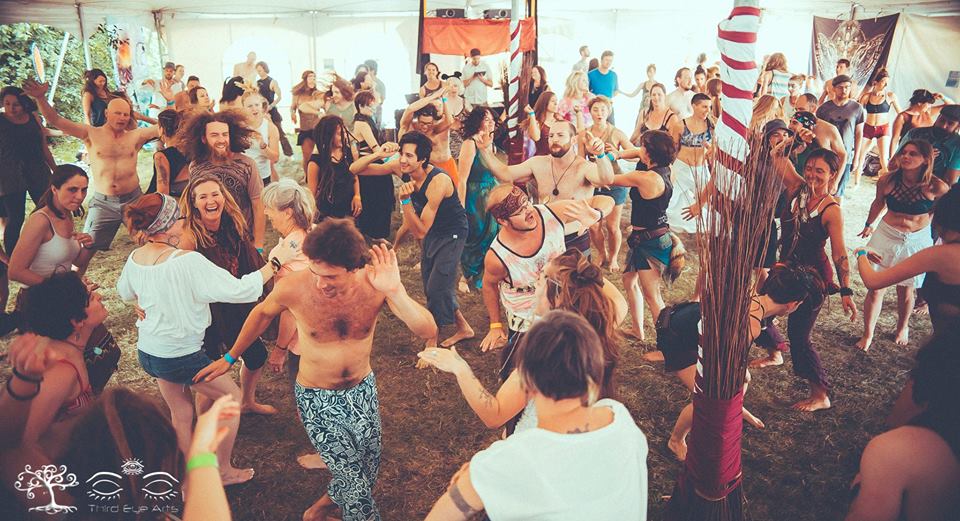 ---
An Invitation to Co-Create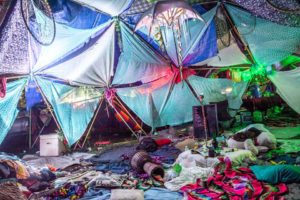 Each member of the CHO festival family is invited to participate in the co-creation of the camp space. The potential camp offerings are as varied as the people joining our camp crew! Due to this gift-based, collaborative core, as well as the shifting of the family members in attendance at each festival, the camp space takes on a life of its own – each time spontaneous and unique in its complete manifestation.
It is truly a collective expression greater than the sum of the individual parts. It is within this community space that each individual is valued, appreciated, and excited to give back through what they love. We believe that people have a natural desire to give their gifts and contribute their creativity. Camp Heart On merely opens the invitation by creating the space. We want to have you sharing whatever it is that gets you excited!
---
CHO has been evolving and taking shape over the last seven summers at festivals like Inshala, Bass Coast, Astral Harvest, Reign Bough Fiddle, Motion Notion, Shambhala, Sangha, Burning Man, and FozzyFest.
---
What We Like to Offer
Typically, the Camp Heart On space offers a 22″ geodesic bamboo dome sanctuary with blankets, stuffies, pillows, cushions, warm decorations, and colourful night lighting. We also love to coordinate community meals and spontaneous potlucks; food sharing of any kind is encouraged. CHO also brings out a communal kitchen space with tables, water, dishes, and cooking stoves for camp use. The dome has also held space for workshops, music jams, healing conversations, and is always open as a place for rest. The Dreamweaver Bus brings camp out and will be hanging next to the dome if you want to check it out or ride with! Again, these camp offerings change and expand depending on who is contributing each time. If you love to do it, we want it to be a part of the camp!
In addition to the services offered at our community camp, many of the CHO festival family also facilitate workshops and volunteer with the festival in an official capacity, such as through the Harm Reduction and Sanctuary. When we hold space at festivals for the flourishing of community, we offer ourselves in service to the collectively expressed needs, shifting the camp as its participants evolve each year. The joy and fulfillment comes full circle whenever a congregation of inspired passerby's become new friends and share their positive reflections of appreciation, amplifying the gratitude and generosity of each heart present.
---
Be sure to watch for us in during our 2018 Summer Tour and let us know if you would like to get involved or join along for a festival or two or three!
---


Testimonials
"Every time I join in this amazing community it never ceases to amaze me. This camp has grown into something even more amazing than when it first took me into its fold. I absolutely love the unconditional positive love here and this space has been so perfect for me. You have had such a positive effect on me both inside and out of Camp Heart On. I love you" — Dave
"Thank you for making my first experience with Camp Heart On such an awesome, welcoming experience. Great weekend, lovely crew, wicked dome. So chill 🙂 Much love" — Erin
"It is bliss, when all the wanderers of light come together to share and belong. So much love, so many smiles, warm hearts, and compassion unconditionally. Joint in arms, seeing one another authentically. Thank you for your community. Thank you Camp Heart On! — Kat