– An epic journey to multiple permaculture sites around Alberta –
Stay tuned for full details, the quest is still being planned!
Have you felt like there is a more beautiful and harmonious way to live in this world that our cookie-cutter urban neighbourhoods do not allow for? Is there a deeper calling in you to learn and develop your Earth-based lifestyle?
Permaculture is exploding around the world as an accessible and adaptable, solutions-based approach to reuniting humanity with the rest of our global family through a local, community focus. The simple solutions are catching on as we learn to unearth the opportunities born of crisis…
---
What better way to learn about harmonious living than to jump right into it?
---
What is Permaculture?
Permaculture is a system of agricultural and social design principles centered around simulating or directly utilizing the patterns and features observed in natural ecosystems. The word permaculture originally referred to "permanent agriculture", but was expanded to stand also for "permanent culture", as it was understood that social aspects were integral to a truly sustainable system…
— Source: Wikipedia
Based on a foundation of core values, Permaculture encompasses all aspects of life and offers an observational approach to relating to one's environment. It's definition is as varied as the landscapes upon which its principles are applied. Permaculture recognizes that what works for one may not work for another, but when we actively listen and respond to the needs of the community we are able to celebrate diversity and create resilient ecosystems.
---
The Dreamweaver Bus is looking for a team of permaculturists (new or seasoned welcome) who are ready to embark on an epic quest of sustainable living and hands-on skill practice. Do you love animals, plants, Earth, water, or people? The umbrella of permaculture offers something of interest to everyone and we are offering this quest as an opportunity to unearth your inner Earth passions. Participants must be willing to embrace an intimate living and traveling experience on the bus, with multiple road trips to each destination. We will be sharing living quarters, meals, and travel space for the duration of the ?? day quest. 
This permaculture site tour will immerse you into a direct experience of social permaculture while we learn from, and practice with, other enthusiasts and models of this holistic school of thought. It is a perfect environment to dive deep into the values and principles of permaculture while being part of a fun tribe and learning from people incorporating permy-solutions into their lives already. If you are already well-versed in permaculture or are eager to begin your journey down this avenue, this trip ideal for inspiring and amplifying your Earth-dreams. Take some time out of your busy life and get back to nature on this exciting quest to unearth your green gifts.
If you are feeling called to get dirty, get inspired practice, and get collaborative, Permaculture Unearthed will provide the fertile soil to get your inner fruit juices flowing with harmonious possibilities!
---
Read on to absorb the full details and to grab a seat on this epic quest!
---
The Quest
Short quest description…
---
The Quick Glance
What: An eight-day, seven-night adventure to various permaculture sites for camping and hands-on learning. 
When: Dates TBD
Where: Departure and return are in Calgary, AB and the permaculture sites will be in S. AB or BC
Who: Room for 9 eager beavers, ready to dive into permaculture as part of a mini tribe
Why: To create a space for creativity to emerge through the inspiration of wild nature; a chance to unplug from the digital world and root into the wisdom of the outdoors
How: By signing up and supporting the Dreamweaver Bus with a deposit of $100. Full details below!
---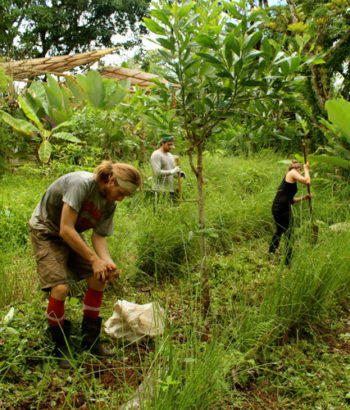 The Dirty Details
What you will receive from Permaculture Unearthed
Transportation from/to Calgary on a spacious, cozy, veggie fueled bus with solar power and travel tunes
A road trip and eight days of great company, engaging conversations, time to catch up on z's, and plenty of opportunity to learn about permaculture
Tours, Q&A, and hands-on practice at various permaculture sites around Alberta with overnight camping
A full kitchen with stove, water, dishes, and refrigerator on the bus
Bathroom with outdoor shower, rainwater harvesting, and compost toilet
Indoor desk space to create, with power to charge any necessary devices
Meals?
Campfire's and group feedback/idea bouncing sessions to amplify the inspiration
Details on each site – TBD
---
Sleeping
The four bunk beds and double private room at the back of the bus will be offered to the first to register. Beds include sleeping space on the bus with decorative curtains, personal storage cubbies for belongings, warm LED lighting, outlets to charge devices, and a cooling fan for hot mornings.
The remaining participants will need to bring camping gear for outside (or an option to choose if you prefer this arrangement) sleeping.
You would be surprised how easily you can find personal space when you have the entire outdoors at your doorstep!
---
Meals
---
Reciprocation
The Dreamweaver Bus is all about the spirit of the gift. This means that we believe everyone has something of value to offer and the dream weaving happens when we invite people to be a part of the vision.
In order to balance financial needs for the bus and to offer an accessible adventure to artists, we are asking for a contribution of TBD…
In the spirit of the gift we also acknowledge and welcome alternative contributions. All money received goes back into making the Dreamweaver Bus roll into the future, but that is not the only way to give back and support.
Here are a few ways you can offset the ??? request:
Offer to facilitate a learning lab, workshop, or adventure time quest of your choice with the tribe. Ideally 1-2 hours, and apply a $44 reduction
Refer a friend and if they join you can apply another $44 reduction
Help with the bus renovation project during the spring to make it awesome for our journey with time or materials. Or assist with the planning and preparation of this retreat. Please contact us to discuss this option
Request a scholarship (based on need and commitment to the retreat)
Give more than ??? to help support the participants with greater financial need.
---
Registration will be open on April 1st, 2018  and close on July 31st, 2018 (or when full).  For more information, please contact pollyorr33@gmail.com